Good Morning Blog Following Peeps!
I bet you thought I had forgotten about ya......nah! I originally started blogging to help my family & friends not on Facebook keep up with what was going on in our lives. Of course I had my times where I blogged more than others. But I tried to keep up with it. Then my Mom joined the FB world, so I slacked off, BIG TIME! Well, it hit me this morning, but not only was I doing it for my family, but I also blogged for me. It's my place to get a few more of my thoughts out than people want to hear about in that little box that ask "What's on your mind?".
So here I am, back at it....after almost a whole month off. I can't promise I'll be back to every day, but I'll get it in when/where I can fit it in.....cause in case you haven't noticed, we live & celebrate life. So sometimes taking time to sit other than to spend time with God or just for some time to zone out on the TV & not have to think about a thing happens very little.
Anyone else have one of those crazy Manic Mondays????
It's not that mine was crazy manic, Mondays are just busy for us & I felt....I don't know, off, all day. We had a great weekend in Hot Springs with my folks!!!! We ate good food, watched the ponies at Oaklawn, & had a wonderful visit. But the drive (or ride cause I didn't have to drive it this time) makes me tired. And we got home in time to make it to Discipleship Training & the example of a contemporary worship service at our church (exciting things to come here).
So, I woke up tired. My workout was a run day. Usually I get my long runs in on Sundays so Monday is a cross training day, which is any cardio activity other than running. But I doubled up last week & did 2 cross training days in a row, so I'm off in my usual sequence of things. About 10 minutes into my run the treadmill & I had issues, so I switched which treadmill I was using. But instead of just hitting pause on my training app, I stopped the whole thing (which mean I had to redo my warm up & 1st run sequence). It just threw me way out of whack & made it for an even tougher run. But I did it ANYWAY! All 5.74 miles in 62 minutes.
This also put me behind on my morning getting ready routine. But I still had my Quiet Time with God (something I REFUSE to skip on a weekday & NEED to add back to my weekend mornings).
***Side note: if I tell you I am praying for something (my response is usually prayers & hugs), that means I have written your care/concern in my prayer journal & I seriously take time to pray over it. That prayer journal goes with me all day, so when I have down time, I'll pray more. One of the people I'm praying for is someone I follow in the blogging world: Lora at
Raising Steppe Sisters & a Young Boy Too
. She is amazing me with how she's keeping her faith through the recent loss of her son. I share this with you cause I believe in the power or prayer & the more who are praying, the better.***
So back to my Monday.....these cuties got up:
....& we did not have the smoothest of mornings. Oh it's DEFINITELY been worse, but they have also behaved MUCH BETTER. But I kept reminding myself, if I'm tired, they're tired too.
My in-laws informed us that the camper has a part recall, so it needed to be taken to the dealership in Jackson for part replacement. Hubs decided since there was a HUGE gap in between our patients, we would go too. I POUNCED on the opportunity & napped all the way to the dealership & back. Well, of course I woke up to eat lunch (Genghis Grill....yum!)
When we got back to the office, I got what I could done in between the patients we had....which mostly meant prep for Tuesday. But I also got a phone call that brightened my day. A little back story: I used to be in choir in High School & College. I also sang karaoke from time to time. But going back & listening to myself sing at our wedding reception, I decided I would not sing alone again....& quit searching opportunities to sing in a group. But I LOVE to sing!!! God has been laying it on my heart how I need to serve Him more & different ways I can.....like actually praying when I say I'm going to, making breakfast for our Sunday School Family (Class) from time to time, & joining the Church Choir. So I'm taking a HUGE leap of faith & trusting Him. I've also been praying for Him to give me a willing heart to do what He calls me to do.
I mentioned earlier in this post something about a contemporary service. Beginning April 6, our church will have 2 morning services (traditional at 8:30 & contemporary at 11) & Sunday School (at 9:45). My plan is to attend both services & Sunday School when we're in town. I want to stick with singing in the adult choir during the traditional service & I LOVE the music that happens during a contemporary service. There is not a choir during a contemporary service, but a small Praise Team that leads the congregation in singing praise & worship, contemporary Christian music. When my phone rang, I never would have imagined what I was about to be asked. I was informed that I was being considered to be part of the rotating Praise Team (aka: not the same people every Sunday) for our contemporary services & they wanted to know if I would be interested. My "you've heard yourself sing" part wanted to laugh & say ummm NO! But God is working on my willing heart & He reminded me to trust Him & take the leap of faith. So I replied with: I'm here to help in whatever God calls....if there's a need & I'm chosen, I'll do it. Now, they may just be looking for another warm body to be up there, but I'm seeing it as a blessing, honor, & another way I can serve God.
The rest of the day wasn't too bad after my naps & that pick-me-up. I got these two adorable tiny dancers delivered to me:
They are LOVING getting ready for the Big Show that will be in June. We did Lenny's for dinner....I don't know if I just wasn't feeling it or not in the mood, but I ended up not eating that & ate junk later in the night. And I got our weekly grocery shopping done.
And I came to a conclusion: I post all my workout pictures for accountability, so why not post my food pics too. For now, I don't plan on blogging them, but who knows what will end up happening.
------------------------------
Have a Sunshiny Day,
~Tasha Sunshine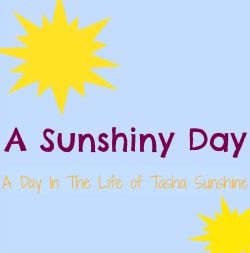 >