Good Wednesday Morning!
On MY this has felt like the LONGEST week. I seriously thought yesterday was Thursday MOST of the day.....but it was only Tuesday.
Here's your Good Morning picture from Tuesday:
That was Kayla's violin playing pose since her class was going to Music. She loves striking fun poses!!! She was also EXCITED to turn in her 100th Day of School Project!!! I'll talk about that more she she actually celebrates her 100th Day.
Before that sweet girl got up, I got up much earlier & headed to the gym. It was my LONG run day on my Half Marathon trainer. I was actually excited to do it!!!!
In that 60 minutes, I did 5.60 miles....& it felt good! It's been a while since I've done a long run.
While those of us in that 5 am gym group were there, we had some excitement.....it SNOWED!!!! Not a ton, but it was exciting to look out the window & see it coming down.
This was my SUV when I walked out. We didn't get any more but a flake here or there; but it was nice to see a little. After getting home, get my quiet time with God in, shower, & Kayla ready, we headed out for our day.
Words hurt! I know this is no news flash or anything....but sometimes they do. They can even hurt when they're said to you by a 6-year-old; especially when she's half of your world. It's not that she said any one thing that hurt, but she compares my abilities to others, a lot. About a year ago, I did a Bible study & God helped me deal with not comparing myself to others. It took me a while, but I got to the point where I was no longer telling either of the girls that if so-and-so did something better, then maybe they should talk to their Daddy about getting a new Mommy. But when someone (yes, even a 6-year-old) is constantly telling you how others do things better than you do, it makes that phrase come right back to the front of your mind. Needless to say, Kayla & I had a talk about how, even though she's 6, she needs to think about what she says, how she says it, & how it would make another person feel (or how it would affect her feelings if someone said it to her). Okay y'all, she's only 6, I wasn't expecting to have to have this conversation just yet.....but ice come to realize when raising kids, you sometimes have to expect the unexpected (thanks, Survivor for that line).
The ride to school had an affect on my whole day......I had a hard time being the happy-go-lucky, positive & upbeat Tasha that I usually am. It even made me think of things I might of said to my own Mom & later in the afternoon, I sent her a text just to tell her I loved her.
And that cycling ride at lunch of 8.3 miles in 43 minutes DEFINITELY did me some good!
It was so cold around here, that I REALLY wanted some chili for lunch; so I had some. Unfortunately I did not practice my usual STRICT portion control, so I overate & felt miserable the rest of the day (lesson re-learned for the umpteenth time).
The rest of the day & evening were good. We had dinner with Gree & Poppie at our house.....White Beans with Ham & Cornbread for dinner....which was yummy! I was a good girl & didn't overeat! We also had some VERY exciting news!!!!! Nonnie has joined Facebook AND Skype!!!!!!
This was the girls Skyping with Nonnie & Pappaw last night. We are ALL so excited!!!! I love technology & it does my heart some good to "see" the people I'm talking to!
**********************************************************************************
So since I was utterly confused on what yesterday actually was, let me go ahead & give you the WIN & WOW Update:
I've been logging into My Fitness Pal for the last 535 days in a row as of today (January 29, 2014).
As you can see, I've lost a total of 37.8 lbs.
I'm now at the maintain the weight but shape up stage.
***Here is what the last week has looked like for me***
Wednesday Goal = Run/Walk
January 22
Stretching
Running 4.75 miles in 50 minutes
85 sit-ups with 10 lb. plate
Burned 498 calories
Thursday Goal = Cross-Training (anything cardio other than run/walk)
January 23
Stretching
95 sit-ups with 10 lb. plate
Weights
Cycling 7.8 miles in 40 minutes
Burned 679 calories
Friday Goal = Run/Walk
January 24
Stretching
Running 4.60 miles in 50 minutes
108 sit-ups with 10 lb. plate
Cycling 7.8 miles in 40 minutes
Burned 820 calories
Saturday Goal = Rest from Run
January 25
Stretching
121 sit-ups with 10 lb. plate
Weights
Burned 359 calories
Sunday Goal = Run/walk OR Cross-Training (anything cardio other than run/walk)
January 26
Stretching
Walking 2.58 miles in 40 minutes (I know I'm not supposed to walk as a cross-training day, but it was better than doing nothing at all!)
Kettlebell work
Burned 577 calories
Monday Goal = Run/walk OR Cross-Training (anything cardio other than run/walk)
January 27
Stretching
Running 4.98 miles in 52 minutes
Burned 483 calories
Tuesday Goal = Run/walk
January 28
Stretching
Running 5.60 miles in 60 minutes
Cycling 8.3 miles in 43 minutes
Burned 895 calories
I said it before & I'll say it again (& you'll keep seeing it): Someone once told me to keep my goals in front of me. And as bad as my memory is, it's REALLY hard for me to remember my goals if they're not in front of me.
Personal Goals:
1) Make healthier meal choices when eating out.
2) When indulging in something that's not a healthier choice, practice strict portion control!
3) Eat at least 2 fruits & 2 veggies daily.
4) Drink 72-96 oz of water daily.
5) Workout 5 days a week.
6) Log EVERYTHING into My Fitness Pal every day.
7) Be comfortable enough with my body to wear a 2-piece for Summer 2014, even if I don't actually buy one.
8) Walk different 5Ks throughout the year.
Wish List.....so far:
March 15 Run or Dye (registered)
March 22 Do It For Ben
March 29 The Glo Run (registered)
April 5 80's Retro Run (registered)
May 10 Foam Fest (registered)
May 23 Zoom thru the Zoo
June 13 Glow in the Park
June 15 Gibson Guitar 5K
August 23 Inaugural Dogwood Dash 5K Benefiting The ANGEL Program for Kids with Autism
September 14 I Do It For ______ Foundation Run
September 9 Teal for a Cure Walk Run 5K
October Breast Cancer Walks
November Heart Walk
I'm sure this list will grow!
9) Walk/Jog Half Marathons.
Planned:
April 26 St. Jude Country Music Half Marathon in Nashville (registration transferred from Memphis Half Marathon cancelled Dec 2013)
December 6 St. Jude Half Marathon in Memphis
10) Stop weighing/measuring everyday....don't be number-driven.
11) Be less self-conscious & more confident with myself. [I think I will always be working on this]
**************************************************************************************************************
This post was a link up with
------------------------------
Have a Sunshiny Day,
~Tasha Sunshine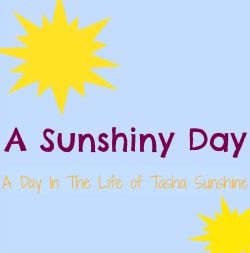 >