Do you remember it?
It just ended a few days ago.
But I am a little behind on posting about it.....as is apparently my new norm.
It was my Dad's Birthday on Sunday; so we headed to Hot Springs to spend time & celebrate Pappaw.
The girls joined me for a couple of hours at the office. I was SOOOOO very thankful that the DVDs play on my laptop!!!! They were such good girls!
Once we locked up the office, we loaded up & headed out!
Jamie caught a little catnap on the way.
Kayla gave in & got one too.
We all had a little snack from the gas station/Dairy Queen in Forest City. I only ate 1/2 of my mini blizzard.
And....we sat in traffic for the construction (predicted to be finished in 2016).
A little stop at Ruby Tuesdays in the Benton/Bryant area for dinner.
We made it to Nonnie & Pappaw's....& the girls instantly started playing.
There wasn't much time for play before it was bedtime....SLEEP-OVER!
The girls enjoy spending time playing in the hammock!
And they LOVE when Bella gets to join us on the boat!!!!!
Everyone was EXCITED to play in the water:
Throwing Kayla
Throwing Jamie
Bella jumping off shoulders
Go Bella Go!
Throwing Kayla
Throwing Jamie
"Ring around the rosy....."
".....we all fall down!"
Throwing Bella
Bella jumping off shoulders
Kayla attempting to jump off shoulders.....still a little timid about it though
Boat ride back means a little rest time for Jamie....
....& Bella too.
The guys man the back of the boat: Dave (aka: Dad or Pappaw), Greg, & Larry (aka: Pappa)
Neighbors: Misty (aka: Grammy) & Esther (aka: Mom & Nonnie)
The girls hang out up front: Misty, Esther, & ME!
One cool chick
This waterfall is just really pretty to me!
Bella decided to help with log watch
Cool Kid
Sleepy Chick
The cove goose, known as Missy or Gossie
Some of the cove ducks
Kayla is asking Bella if she wants to stay over & swim in the cove. Why it was a secret to ask her & needed to be whispered, I'll never know. Maybe Kayla wanted to make sure Bella actually wanted to before asking the adults...who knows?!?!?!
These two have turned into little mermaids this year, LOVING to be in the water!!!!
Water gun fights are FUN!!!!
But when Jamie's whole body starts shivering (the sun was setting & the cove is shady in the afternoon/evening, so the water was getting chilly), she is ready to get out!
Since the water got chilly, the girls decided to let the Barbies go for a little swim the their "pools".
When Bella had to head back to her Grammy & Pappa's, the girls decided to relax a little with Daddy before......
....pizza on the porch.
Week 2 Day 3 of the Half Marathon Trainer app was a run/walk sequence. Yes, I realize I skipped Day 2....it was a cross-training (any non-running activity) day & I wanted to do Zumba on the Xbox so I pushed that to Monday.
Then we took Pappaw out to breakfast to celebrate his birthday. He picked Patty's On the Lake (& it was GOOD):
The girls gave Pappaw his card.
Those girls love Pappaw
Greg, Me, & Daddy
Daddy & Momma
Nonnie with Jamie & Kayla with Pappaw
After breakfast, it was time to load up & head back to TN.
We took the scenic route when it came time to avoid the construction......it was beautiful drive!
And when we got back to Somerville, we made a stop at the Crawfish Cabin to get a crawfish appetizer to go along with our steak dinner!
***********************************************************************************
This post is part of a link up with:
------------------------------
Have a Sunshiny Day,
~Tasha Sunshine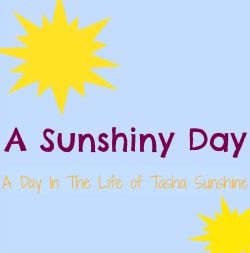 >