We are blessed enough to have Jamie returning to the Warren Community Church Mother's Day Out/Preschool Program for the 2013-2014 school year. It is a 2-day-a-week program (of course Jamie wishes she could go all 5 days like Kayla).
Let's flashback to her 1st day of the 20012-2012 school year:
Here is her 1st Day this year:
As requested, her Daddy got up & made her breakfast. She only wanted a biscuit (& she only ate half of a half....she was just too excited).
1st Day stats
All dolled up (she asked to take her pictures on her stool)
Backpack on
It looks full, but is not heavy at all
Excited to be going to school
My Monday & Wednesday morning car crew
Jamie was very excited to be reunited with her friend Sophie. These 2 used to get to play together at Mimi's house.
Jamie was also exited to be reunited with Oliver, one of her classmates from last year
Ms. Lindy & Jamie
Coley (friend from last year) & Jamie
Excited to get to playing
In fact, Jamie was so excited to play with her friends in her new classroom, I didn't get a chance to get a picture of her & me. So I was very grateful that Gree brought her by work after pick up.
Sleepy Jamie after school & Momma
Daddy & Jamie
She can't wait to go back!!!!
------------------------------
Have a Sunshiny Day,
~Tasha Sunshine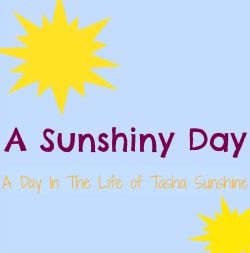 >