Wow...it's Sunday & I'm blogging! What's up with that!?!?!
Well, I took A LOT of pictures when I did the Color Me Rad 5K on Saturday & we have had a fun-filled weekend. So I though that I should do a post for just the Color Me Rad 5K. I will try to get my Weekend Shenanigans post done before the link up expires.
The Color Me Rad 5K is a 3 mile "race" that you do starting out in a white T-shirt & end up COMPLETELY covered in all kinds of color! I say "race" because they say "go"; but they also "don't even own a watch" so you're not really in a race.
Color Me Rad is a fundraiser for Special Olympics. Just in case you haven't heard: The ultimate goal of Special Olympics is to help persons with intellectual disabilities participate as productive & respected members of society at large, by offering them a fair opportunity to develop & demonstrate their skills & talents through sports training & competition, & by increasing the public's awareness of their capabilities & needs.
This organization is near & dear to my heart. Not many people who have known me since 2003 know this, but I did a lot of volunteering before then. I coached PeeWee (elementary-age) cheerleaders, teaching cheers, dancing, & how to work as a team. In High School, I volunteered 4 hours a week at the hospital (2 hours in the Oncology ward & 2 hours in the Newborn Nursery). But from about the age of 5 on, I volunteered with Special Olympics. MOST of my life, my Mom was the Area Director for our area for Special Olympics. Since I can remember, I volunteered with Momma. Absolutely not because Mom made me, but because I wanted to! I loved (& really miss) volunteering with Special Olympics.
I've seen pictures of the different color runs & have soooooo wanted to do them!!! But when I saw Color Me Rad was to benefit Special Olympics, I was beyond excited it would be my first of the color runs!!!!

I was really excited to get my Rad gear!!!!
Shades, 2 Color Packets, & Race Number
Socks & Tattoo
I got inked!
LOVE my socks!
My shirt is "so fresh and so clean"!
Pulling up! ALREADY hear the music & getting so pumped!!!!
Prep-race Selfie
Heading to the crowd....yep, way excited!!!!
Let's get colored!!!!
Steve, the Rad Bunny
It's time to get started!!!!
"Happy Birthday Brenda!" I bet it's the biggest birthday party she's ever had!
The 1st Color Bomb of in the race.
It was my FAV color....PURPLE!!!
Next Color Bomb came in the form of the color powder mixed with water.
You couldn't tell I got hit while it was still wet.
Water Spot
It was hot, so I stayed hydrated!!!!
I got hit by more Color Bombs
Color Bomb
Finish Line
Wheel barrel races
This is right after I finished
Color Bomb during the party
Color Bomb during the party
More swag
Everyone getting ready for the human bridge
Color Bomb the human bridge
Post-race Selfie
Ummmm....my shirt's not so fresh & so clean any more.
My arm was covered!
Check out the difference in where my shorts were.
Post-race selfie without the glasses
Ummm....this is what my seat looked like since I forgot to grab a towel.
Once I got to the house face shot
Full body once I got to the house (without my number)
My number didn't look too bad.
My leg was still white under the sock.
Oh this was SOOOOO fun!!! It was fun cause it was a color run, but it was also fun cause I enjoyed getting to walk a race!
------------------------------
Have a Sunshiny Day,
~Tasha Sunshine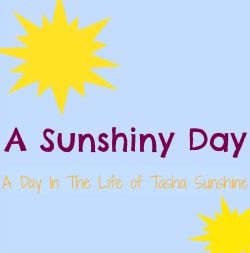 >