As one of my very sweet friends pointed out to me: it has been two weeks since I blogged last.
WHAT?!?!?!
I mean, I know people go longer, but I was trying to blog 2-3 times, or minimum, ONCE a week (bad memory...don't want to forget what happens in my life & all). And now I've gone 2 weeks without doing it.
To say last week sucked would be an understatement! I'm not going to dwell on it, just saying why I didn't blog last week. I started the week of not being able to get in my workout groove. Then I had a minor medical issue that put me in some pain.
So when I had the chance to have a 4-day weekend (off Friday and Monday), I jumped all over that! I've spent this week playing catch-up at work (the pain making me unable to work on the days I was there), so I'm just now getting to blog about Father's Day Weekend. I even missed my Weekend Shenanigans link up (insert sad face here). But I blog for my friends, family, & myself (not just my link up peeps) so I'm blogging about it now.
Technically, my weekend started Thursday afternoon.....& PS: PICTURE OVERLOAD!
Thursday
The girls finished up their two weeks of swim lessons (which they LOVED)!
...& we headed to Nonnie & Pappaw's house.
And what's a road trip without gas station junk food for snack time?!?!?!
Ahhh...... 5.5 hours later (thanks to construction), we made it!
The girls (& Nonnie) made us breakfast.
Then we got ready & headed out on the boat.
At first, the girls were all excited looking over the side of the boat.....but they all ended up laying down to get some "rest" before an afternoon full of swimming.
We met up with the Crow Boat.
Bella getting some "rest".
Jamie getting some "rest".
Kayla getting some "rest".
Kayla & Bella
Jamie
These are my Arkansas People!
Every once in a while, it's time to hop out of the water for a little snack.
And sometimes a little more "rest" is needed (when you're getting cranky & whiny).
Some more snacks are in order after all that playing in the water.
Kayla did too!
And I think Bella even dozed off.
Back at the dock, Kayla "rested".....
...while Jamie napped.
After the girls woke up, we headed over to Nonna Jo & Poppa John's for grilled hot dogs. I got pics with most of my people.....
Jamie
Momma
Brenda
Jamie
Misty
Landon
Madison (Maddie)
Kayla
Spencer
Mary Jo (Nonna Jo)
Jamie & Madison enjoying the palm
Daddy
Aaron is such a little ladies man!
Not sure what they were checking out, but aren't they just too cute?!?!?!
Dinner time!
Then we headed back.
Pappaw helped Jamie drive us a little of the way back.
And Kayla got to drive us in a stretch.
These 2 cuties had another sleepover/sleep-together Saturday night. Oh how I LOVE them!!!!!!!
Then it was Pancakes with Pappaw time!
I'm so thankful we got to spend most of Father's Day weekend with my Daddy!
But then we had to load up & head home.
Junk food for snacks were a MUST! I even got in on the action. But I did NOT eat it all!!!!
Gree & Poppie came over after we got home & we had a shrimp boil with taters, sausage, & corn. But bad blogger here didn't get any pics (what the heck was wrong with me?).
Kayla was okay with this dinosaur.....it didn't move.
Look at me!
I took a ton of up close pictures of these butterflies, but will save you from all of them.
The dinosaur moved & roared!
Jamie was okish with having her picture made with me.
Putting our hands in a dinosaur track.
Picking out groceries in the 1st store (Piggly Wiggly) in Memphis.
"Look, Momma, someone is under there working on it!"
The Circus has come to town!
Then it was time "To Fly"
Our 1st IMAX experience!
IMAX induced Jamie's nap about halfway into it.
Which lasted all the way up the steps & out to the car.
Then we went to the Peabody to check out the ducks.
While we were waiting on the ducks to march back up to their ducky palace, we did some coloring. I am SOOOO thankful I thought to grab some crayons & paper!!!!
We had a sweet waitress in the lobby!
Since the girls are kids, they got to sit along with red carpet that the ducks march out on. I got to sit behind them & take pictures.
The marched right by us!
And into the elevator up to Ducky Palace.
Daddy & his girls with the original Peabody Duckmaster.
After the Peabody, it was time for Texas de Brazil.
Poppie & Gree joined us.
Kayla was excited about all the steak & sausage!
Jamie was excited about all the chicken she got to dip in Ranch.
Time to check out the dessert tray!
We got 2 for the table to share.
Kayla REALLY enjoyed it!!!!
On the way home, Jamie got a nap in....
....while Kayla enjoyed a movie.
So how was your Father's Day weekend????

------------------------------
Have a Sunshiny Day,
~Tasha Sunshine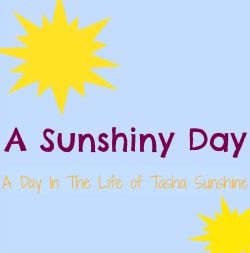 >