Wow....I'm getting to do a Weekend Shenanigans post again: EXCITING. Well, for me at least! It means things have slowed down a little bit & gotten back to our normal.
Friday
The girls & I went for our 1st stroll of the season! If you live around me, those hills at the Somerville Country Club are some GOOD ones for a work out....add a double stroller that weighs about 25 lbs, 40ish lb 5-year-old, & 30ish lb 3-year-old & you've got yourself an AWESOME workout! You should come join us sometime!
Saturday
Morning:
1) Our Rotary Club had a Pancake Breakfast Fundraiser & we got to participate.
2) We love pancakes!
3) Time to run some errands.
4) How we roll picking up some things at Walmart.
5) Oh that place is heavenly....it smells good with the fresh baked breads & cookies!
Meanwhile:
Daddy killed a turkey!
Evening:
I LOVE living out in the country! It is nice & quiet when we want it to be & actually dark when we turn out the lights at night to go to bed (no street lights shining in my window). However, when it comes to shopping, it can be a little inconvenient. And in case you missed the memo: I HATE shopping! Well, in the last few weeks I've taken a few shopping trips. And do you see what I ended up with? 2 pair of jeans with the sensory still on them. So since we were heading "to the big city", I finally got to take them back to get those things taken off.
1) We went for a family dinner at Shogun (aka by the girls: the Fire place).
2) Jamie tried & actually liked the soup.
3) They were entertained by our cook.
4) Patiently waiting for dinner & enjoying the entertainment.
After dinner, we went out for a family movie: The Croods. It was cute! There were a few points were Jamie got restless/bored, but she's 3. And after the movie everyone said they liked it.....and yes, I did cry. I really get into what I'm watching (like cry when my fav characters on TV shows die kind of thing. NO ONE did in this movie.....there was just some really touching points).
Sunday
1) Do you see that I've logged on to My Fitness Pal for 245....that's kind of major in my book!
2) We got all dolled up & headed to receive God's guidance from the messages in our Sunday School classes, Children's Church, & the sermon.
3) We had lunch at Olympic.
4) How we roll picking up a few things Krogering in their new car carts.
5) While everyone else took a nap, I hit the treadmill for a hard core 32 minute walk.
6) Once everyone was up, we took a 4-wheeler ride. If Jamie said Whoo Hooo once, she said it a million times!
7) After our ride, while Daddy was cooking dinner, we played outside a bit. We are loving the nice weather!!!!
8) And we also had a little Play-Doh & GAK time.
**********************************************************************************
So how was your weekend?????

***********************************************************************************
This post was a link up with

------------------------------
Have a Sunshiny Day,
~Tasha Sunshine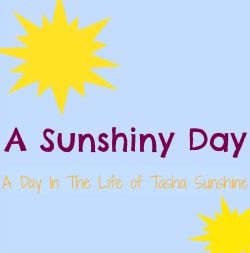 >