If you read
Manic Monday Spills Over
, then you
know
that I attempted to blog & link up with my Weekend Shenanigans all week long, but it just didn't happen.
I'm
attempting
again this week.....let's see if I actually get it all done before the link up deadline.
Action-Packed Friday
Gree wanted off on Friday, so that means I got an unexpected day off!
So I got the girls ready, we grabbed a Lunchable Picnic lunch at Kroger, & headed to the zoo.
I usually always take a picture of the parking spot number we are parked in, but it was field trip day at the Memphis Zoo, so we were parked out in the grass field (1st time for everything). I took a picture of the letter of the row that was closest to the spot where we were parked in the field.
Do you remember I said it was Field Trip Day at the Memphis Zoo??? Yea...it was crowded.
Kayla wanted her picture made with the lions
Jamie saying: look Kayla!
Checking out the animals
Meerkats
Checking out the birds
Checking out the penguins
Pelicans
Headed into the Farm Area
I hatched a KAYLA!
Don't have a cow, Dude!
Look, I found a double-yoked egg!!!!
Kayla showing me the fish
Lunchable Picnic Lunch Time: Kayla had a Sub Lunchable, Jamie had a Turkey & Cracker Lunchable, & I had a healthier 270 Calorie Lunchable option with Roasted Chicken
My big girl skipping along the path
Checking out the pandas.....they were sleeeeeeppppping
Elephant Time
And by this time, Jamie said "I'm tired"
Kayla wanted to help me push the stroller
Checking out the zebras
Time for the giraffes
The Memphis Zoo just had a Baby Girl Girraffe in January
LOVIN my Unexpected Day Off at the Zoo with my Girls!
Kayla's a girraffe!
Jamie's a girraffe too!!!!
We had to make a wish on our way out
Traditional Animal Picture on the way out (Kayla's choice of animal)
Traditional Animal Picture on the way out (Jamie's choice of animal)
We had a little snack on the way home while watching a movie (okay, so I was driving & the girls were watching the move).....trying to keep them awake so a good nap would happen at home, in their own beds.
And I even fell asleep on the couch. When the hubs got home from work, he woke us all up & said he wanted to do something fun with the girls too. So we loaded up.....
.....& went to Memphis Pizza Cafe.
After dinner, we met Jessica & Kolby for some bowling.
Me & Jess
The girls with picking out balls
Daddy helping Jamie
Kayla getting a little help from Kolby
What Jamie's ball sees as it left the kiddie ramp.
What Kayla's ball saw was it left the kiddie ramp.
The scores in the order of Kayla, Jamie, Greg, Tasha, Kolby, & Jessica.
I swear, I could have slept
all day
long on Saturday.....I'm getting old. Okay, so maybe I'm not getting old at the ripe old age of 32. Let's blame it on the crazy changes in barometric pressure around here or the fact that I didn't drink the 80-112 oz of water I drink a day & didn't drink on Saturday, my energy was
zapped
!
Crawfish Sunday
Sunday did not start out well for me (migraine), but we'll blame it on that barometric pressure & lack of normal consumption of H2O.
After nap, it was time........
.....for CRAWFISH/MUD BUGS!!!!!!!
Veggies & Sausage is ready!
Crawfish are ready!
Jamie telling Poppie & Gree all about something
still
fun to play with!!!!
Dropping some more crawfish!
Hanging out with our friends (didn't get as many pictures as I meant to!):
loved
her some Crawfish & would get a bite from anyone who offered! My girls, not so much.
**********************************************************************************
So tell me about
your
weekend!!!!
**********************************************************************************
This post was a link up with:

------------------------------
Have a Sunshiny Day,
~Tasha Sunshine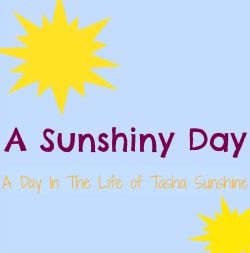 >