This weekend was the start of a week-long vacation to my parents' house in Hot Springs, AR.
The drive to Mom & Dad's can be a little long at times though (construction on 40 & traffic), so I decided not to go right after work on Friday.
Since everyone was still in town, we met up with Gree, Poppie, & Daddy at Stix in Collierville.
After dinner, the girls & I did some Zumba on the xBox.
I had a goal of leaving the house by 9:30 to get the show on the road.
We finally got everything loaded up. My motto is "better to have it then wish you had it", so I packed a lot for us 3 girls to be gone for 1 week.
I have gotten a virus or 3 on my laptop. So I worked on backing up my pictures on Friday, & we dropped it off with the Geek Squad as we headed out of town.
After a trip to Wally World, we were able to get ready to go. I love my little Summer Fun Babies (who aren't such babies any more).
We got all loaded up in the boat & we were ready to go!
Kayla watched waves & was chillaxin.
Jamie was busy playing & chillaxin.
And then we had lunch on the boat.
Silly girl with her glasses on upside down.
Kayla decided to take a little "rest" in the shade.
I have 2 lil Miss Independents (as long as they have their lifejackets on & can touch the bottom).
Kayla's just floating around.
Swimming with my little big girl.
Swimming with my big girl.
After some splashing around, it was time to have a snack & head back.
Jamie got sleepy & took her nap like this. I have no clue how she's comfortable, but she took a pretty good nap like that, so I guess she is. We let her nap on the boat till she woke up, which was after we got back to the house.
While Jamie was napping, Kayla was splashing some more in Nonnie & Pappaw's cove.
After dinner, the girls had freeze pops with their mitts.

**********************************************************************************

***********************************************************************************
This post was a link up with
------------------------------
Have a Sunshiny Day,
~Tasha Sunshine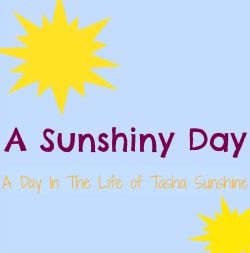 >