Here's my Weekend Shenanigans:
Since I was still on something for the pain in my mouth, I did agreed to a weekend of just sitting at our Lake House down at Sardis. Usually if we're just going to sit around & relax, I tend to try to stay home & get stuff down....but I was loopy & didn't want to feel guilty for just sitting around (staying at the house I would have felt like I needed to be up doing something around the house).
These 2 were really happy cause they LOVE going down there! We enjoyed dinner down at Holiday Lodge. The girls LOVE Mr. Bennie & the whole staff! I think the feeling is the same.
And when we eat dinner at Holiday Lodge, the girls usually get.....
....push-ups. They LOVE these things! Jamie usually ends up having to have her's put in a bowl & eating it like ice cream.
Was May the Fourth Be with You (Star Wars Day)
Sorry for the picture repost, but I couldn't resist the Jedi Jamie!!!!
The hubs & mother-in-law cooked a BIG breakfast. It was yummy!!!!
I'm a sucker for pancakes, so I didn't eat any of the eggs, biscuits, bacon, & country ham that were cooked. I also had to take my loopy meds....but that was the last time! My mouth felt MUCH BETTER by the afternoon! Still taking my antibiotic though.
While we all relaxed, I worked on my St. Jude Half Marathon Walking Training schedule. Other than that, I pretty much watched TV & dozed off & on....it was so nice to relax!
We got up & headed to Holiday Lodge for breakfast.

Oh how I love these two!!!!!
I enjoyed a cup of coffee!!! As I've mentioned before, I love a big cup! Well, this is my really big cup! I only use it when we are down at the Lake House.
We also watched our Memphis Grizzlies play on Friday & Sunday.
And then I learned the very valuable lesson I try to remind the girls of,
especially
on school nights:
NO HORSEPLAYING AT BEDTIME!
Jamie & I were being really silly with our hugging when I was putting her to bed. She was already laying down in her bed. We would hug then quit, & hug then quit....& each time we quit, I would go away from her & then rush back for another hug. Well, on our last one, Jamie decided to sit up right as I was bending down to hug her & the tip my cheek bone, right by my eye hit her forehead. It hurt started swelling instantly. And this is what I woke up to this morning:
**********************************************************************************
So how was your weekend????
**********************************************************************************
This post was a link up with

------------------------------
Have a Sunshiny Day,
~Tasha Sunshine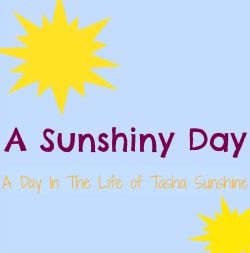 >