The girls enjoyed playing in the dirt!
They also played with their new bouncy balls:
Once it was getting dark, it was time to go in & start getting settled for the night.
Jamie wanted a snack & a drink...settling for a drink.
Kayla was worn out & ready for bed.
Jamie wanting to party like a rock star & Kayla wanting to sleep.
Watching a little TV & Tessie Dog decided to join them in the bed.
And in case you couldn't tell from Kayla's facial expression, it was a little exciting to watch the couch-bed air mattress get set up. I didn't sleep great, but dozed off & on.
They had donuts for breakfast.
Then we found the playground across the street.
Strike a pose....my little photo diva.
And then the rain moved in so we had to move our party inside. I am really thankful for the tailgator cube so we could watch TV
I'm also thankful this camper has a DVD player & the girls enjoyed watching a new movie.
Someone thinks they are a big girl cause now they can drink (pretty successfully) from a water bottle.
After nap time, we went to see if the girls were big enough to ride any rides they had there & to see if it was too muddy or not.
And more rain moved in.
These girls love diggin in the dirt!
Check out that curly pony tail!
We then went to the Sugar Farm Catfish in the Barn. It's a pretty yummy place to eat!
And they have homemade ice cream & strawberry shortcake (I combined my two).
And ya can't leave without getting your picture made with the big catfish!
Despite no sleep, I got up at regular time (4:45) & started my day as usual. The girls & I got some cleaning/straightening in the house that I hadn't gotten done during the week. During nap time, I tried to sleep, but it just didn't happen. That evening, we got all dolled up & headed to the wedding reception for our friends who got married. We had to miss the wedding cause everyone else wasn't back from the BBQ Competition (Results: 6th in ribs, 2nd in pork, 1st in brisket, & 4th overall).
Daddy & the girls
Basket of flowers
Outside of Kayla's card
Inside of Kayla's card
Outside of Jamie's card
Inside of Jamie's card
The holder for my new flower pot
And I even got flowers (in my FAV color) to go into my new Butterfly Flower Pot!
I also got the girls pictures made together with the live bunny & my Zoo Membership.
After church, we went to Olympic for lunch.
My requested dinner
And homemade Creme Brulee for dessert (ekkk....2 desserts in one weekend, this might not turn out well on Wednesday Weigh-in).
And I took an uninterrupted bubble bath.....all mothers out there will be able to appreciate the significance of this gift.
**********************************************************************************
How was your Mother's Day weekend????
**********************************************************************************
This post was a link up with

------------------------------
Have a Sunshiny Day,
~Tasha Sunshine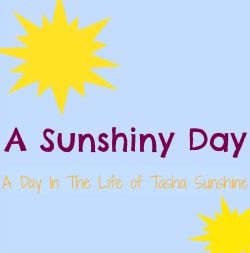 >