Really????
I am a Mom of a 6 & 3 year old......
The 1st party was on Friday night & it was for our friend Lily. She's in Jamie's age group. Her party was at Pump It Up (a place full of inflatables). Sorry for the blurry pictures....but these kids were having too much fun to stop for pictures!
Jamie with the birthday girl!
My girls with the birthday girl....again, too busy having fun to stop for pictures!
Jamie would get upset if she couldn't see Kayla or if Kayla ran off without her. She loves her big sister! It was cracking me up, but getting on my last nerve at the same time (due to the whininess); but this stage too shall pass.
Cake & Ice Cream time:
Jamie with her Best Friend: Lilly Kate
Time to open presents:
The Big Chair of Honor
Saturday, we were invited to celebrate our friend Nola. She's in Kayla's age group. Her party was at her house. The kids got to run around & play outside, enjoy a nacho bar & popcorn bar, decorate/color aprons, paint canvases, & of course, enjoy ice cream & cake!
Enjoying nachos & popcorn....build-your-own style
Sometimes, you've just got to raise your bowl up to your mouth to get all the goods.
Running around, playing outside:
Time to decorate/color aprons:
Kayla & Jamie with some of their friends at the party, including the birthday girl (standing beside Kayla).
Time to paint:
Painting by Kayla
Painting by Jamie
Cake & Ice Cream Time:
Happy Birthday Nola!
Nola's Mom (Desiree) got REALLY creative with the cake! There were poka-dots in it!
Time to open presents:
Someone was a little worn out
Saturday night, we got to celebrate our friend Jessica. We got to welcome her into the 30-something club! There was dinner at Chili's & a bonfire.
Headed to dinner with the hubs
Everyone at dinner:
Happy Birthday Jess!
Bonfire Time:
Tell me, how was your weekend???
***********************************************************************************
This post was a link up with
Have a Sunshiny Day,
~Tasha Sunshine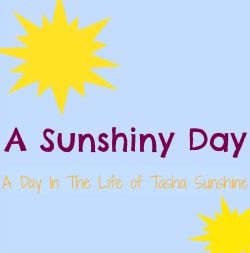 >