Good Friday Morning Beautiful People!
This child loves to come up with her own poses!
I know, I know, it's already Friday & I'm just now getting to my Weigh-In (WIN) & Workout Wednesday (WOW) update....but wait, I didn't blog about it last week so now you've got two weeks worth of info coming your way!
I said it before & I'll say it again (& you'll keep seeing it): Someone once told me to keep my goals in front of me. And as bad as my memory is, it's REALLY hard for me to remember my goals if they're not in front of me.
Personal Goals:
1) Make healthier meal choices when eating out.
2) When indulging in something that's not a healthier choice, practice strict portion control!
3) Eat at least 2 fruits & 2 veggies daily.
4) Drink 72-96 oz of water daily.
5) Workout 5 days a week.
6) Log EVERYTHING into My Fitness Pal every day.
7) Be comfortable enough with my body to wear a 2-piece for Summer 2014, even if I don't actually buy one.
8) Walk different 5Ks throughout the year.
**I have done (Cotton Pickin' 5K) & I'm registered for another**
9) Walk the St. Jude Half Marathon on December 7, 2013. [REGISTERED! This IS happening!]
10) Stop weighing/measuring everyday....don't be number-driven.
11) Be less self-conscious & more confident with myself. [I think I will always be working on this]
Here they are for the last 2 weeks since my last WIN & WOW update:
I've started a new challenge....it's an app on my phone:
It has me do a few more sit-ups each time I do it (designed to be done 3 days a week) in order to work myself up to doing 200 in one workout session. I also like it cause it praises me when I'm finished & allows me to post for my accountability people (you know, those peeps who check on me with my workouts & such):
Wednesday Goal = Long Walk or Walk/Run
October 2 = 2 miles walked in 46 minutes at 4 mph and 4.99 miles in 55 minutes at 6 mph (averaged a 10 minute mile)
October 3 = Sit-up challenge
Friday Goal = Workout
October 4 = nothing....I was going to tell you why & then realized they were unnecessary excuses.
Saturday Goal = Workout
October 5 = nothing
Sunday Goal = Workout
October 6 = Sit-up challenge
Monday Goal = Cross-Training Day
October 7 = 2 miles in 20 minutes...........
......and then Fitness Boot Camp with COXtrong Boot Camp at Do Work
And then this happened:
I have to take 2 whole weeks off from running, heavy walking, & strenuous exercises. Oh how much this disappoints me!!!!!
Tuesday Goal = Walk/Run
October 8 = Sit-up challenge
Wednesday Goal = Long Walk or Walk/Run
Friday Goal = Workout
October 11 = nothing
Saturday Goal = Workout
October 12 = nothing
Sunday Goal = Workout
October 13 = nothing
Monday Goal = Cross-Training Day
October 14 = nothing
Tuesday Goal = Walk/Run
October 15 = Sit-up challenge & 10 minutes of easy walking
Obviously, it was an off week for me; but at least this last week has had a medical reason.....goal for next week: Be better with my workouts than this week! Even when I can't medically workout, I should at least do sit-ups or something easy!!!!
I've been logging into My Fitness Pal for the last 430 days in a row as of Wednesday, October 16.
As you can see, I've lost a total of 37.8 lbs
I'm now at the maintain the weight but shape up stage.
I have been an optician & worked at the Somerville Eye Care Clinic for 2 years as of October 17, 2013....Happy Anniversary to Me! This is far from what I went to school to become when I grew up; but sometimes you just need to make a change & this was an easy option. It was a financial decision for our family & my sanity & happiness.
As a lot of you know, Wednesday was Boss's Day. Our schedule at work just did not allow us to take the boss to lunch, so we did it on Thursday instead. We headed to the Memphis area for lunch & ate at J. Alexander's. I had the Steak Maui & it was yummy! I even have 1/2 of it left for Friday's lunch!
After lunch, we went to Lifeway Christian Store. I got a Chronological Life Application Study Bible. I never read the Bible from cover-to-cover, but have always wanted to. When I've tried in the past, I've always gotten confused about when stuff was happening....hence I got one in chronological order in hopes to help me better understand. I opted for one that is life application to help me better understand applying the Word to my life today. And of course, I got a version (NLT) that I would understand cause I get tripped up by the fancy talk of the KJV. I also got The Girl's Still Got It by Liz Curtis Higgs. I am really enjoying the Ruth Bible study I have joined & this book is a historical fiction book diving deeper into Ruth's store. The author has books on the New York Times bestseller list & is full of wit.....one of her books is titled Really Bad Girls of the Bible....I think I'm going to add this one to my wish list as it just sounds fun to read!
We then got to make a trip to Starbuck's! If you've been following me long or know me, you know this is a treat for me cause the closest one to us is about 40 minutes away.
Do you remember in
Fall Break 2013 & More Daily Blessings
(posted yesterday) when I mentioned that Kayla got invited to Bring a Friend to Dance Night on Monday? Well, she fell in love with it! She was able to show us more that she had learned from one night of dance than she has shown us after 2 1/2 months of tumbling. So after much talk, prayer, & weighing all of the pros & cons, we've decided to switch the girls to dance & stop attending tumbling. The dance studio is about 15 minutes from the house. When I take the girls to tumbling, we spend about 2 house in travel time alone. It's just a smarter move at the ages of 6 & 3. But Kayla was upset about not getting to see her tumbling friends any more; so we did one more night of tumbling:
This new schedule will change up my workout daily goals.
The girls have been invited to 2 birthday parties this weekend (Friday night & Saturday afternoon), so while they were tumbling birthday presents were purchased to celebrate our friends.
Tell me about your weigh-ins, workouts, &/or what ya did on Thursday!
**************************************************************************************************************
This post was a link up with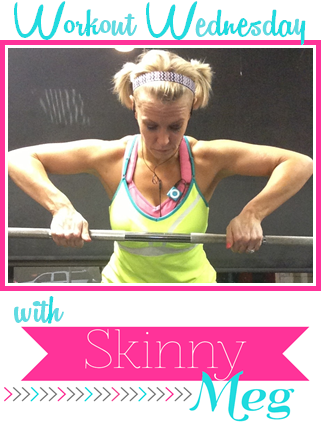 ------------------------------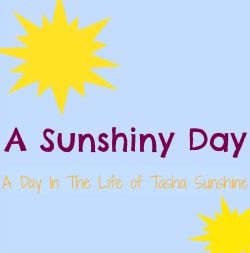 >