I would say it was a great & relaxing weekend!
Friday
one. My Mom's sweet neighbor was nice enough to snap a pic & tag me on Facebook. Love those 3!
two. It was nice outside so we grilled out steaks
three. Add a 1/2 baked potato & a salad to what came of the grill, & you've got DINNER!
four. We watched the Memphis Tigers win the C-USA Semifinal
five. But the Memphis Grizz weren't so lucky...
one. Do you see the time on that picture of my Quiet Time setting???? I get up at 4:45 am, every day. So it was nice to sleep in till whenever I got up. I can't remember the last time I did that, other than when I've been sick or recovering from surgery
two. That #6pack March Ab Challenge is getting hard core!
three. I officially got signed on with BlogLovin' since Blog Reader will be going away soon. And BlogLovin' made it super easy to make sure I don't miss out on my FAV bloggers!
four. We watched the Memphis Tigers win the C-USA Championship...after double overtime! It was a great game!
five. My friend Jess & her mom Tammy met me at the Fayette Baptist Church's Girls Night Out Spring Fling: Shop. Dine. Fellowship. It was a great time & the message was truly a blessing!
six. So we were watching the Memphis Grizz.....but ummmmm, I got addicted to a new game. So I didn't snap a picture of my Grizz (who were having a tough game since they had been playing SEVERAL nights in a row on the road & the team they were playing hadn't played since Wednesday. But I did watch at the game. Ruzzle rocks & keeps my mind active.
one. It would have been my sweet Mammaw Larue Chapman's birthday. She LOVED God, life, & enjoying life. You can bet that if you didn't wear green on St. Patty's Day or you gave her JUST a card & not a WRAPPED present, you were going to hear about it. She was also my BEST Easter Egg Hunting partner. I miss & love her & celebrate her on her birthday! Pic was taken August 2008 & Kayla was about a month old.
two. Hubs & I loaded up to meet my parents in Brinkley, AR to get the girls back!!!!
three. Look who I found!!!!
four. Oh how I have LOVED & MISSED those two!!!
five. Kayla insisted Daddy take a pic of just the girls while we were having lunch at Chili's
six. 20 minutes from the house & all the Spring Break fun caught up with Jamie....she just could not hold her eyes open any more. When we got home, they BOTH took a 2 1/2 hour nap. Playing at Nonnie & Pappaw's for a week will wear a girl out!
seven. Enjoyed getting to watch Kasey Khane win Bristol....while playing Ruzzle of course
eight. Sinkin sinus/allergies are REALLY acting up now that stuff is budding & blooming. Breathing treatment of Jamie. I am beyond thankful that we give these on an as needed basis & pray for those parents & my friends who have to do them daily.
**********************************************************************************
How was your weekend?
**********************************************************************************
This post was a link up with
------------------------------
Have a Sunshiny Day,
~Tasha Sunshine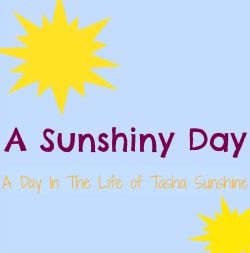 >