Usually we do dinner ON birthdays & party on a different day. But it's all the same day for Jamie this year, so we decided to make her last day to be 2 have a fun moment. It was Goodbye to "2" Day!
Oakland Donuts was closed...........
......so we drove to Howard's cause I promised the girls we were going to eat AT a donut place.
Jamie picked a pink sprinkle donut with chocolate milk.
Kayla picked a yellow sprinkle donut with chocolate milk.
Last Bath as a 2-year-old.
Favor Buckets for our friends:
Playing around the kitchen
Then & Now:
Good Morning to my 3-year-old Birthday Girl with Birthday Donut
Kayla enjoying a donut too.
Presents that appeared while Jamie was napping
It's almost party time!
Pictures with all our decorations:
A little balloon play before our friends arrive:
Oh I love my girls!!!!
Jamie says: I'm three
Jamie was excited to give a Favor Bucket to her friends!
Playing with our friends:
Boaz
Lorelei
Mallory
Taking in all these girls running around him.
Coloring Time:
Mallory & Sophie
Lillie Kate & Jamie
Kayla, Dawn, & Boaz
Anna Claire & Lorelei
After coloring, we made Fruit Loop Necklaces:
Nonnie helping Jamie & Lillie Kate
Anna Claire getting help from her Mommy (Sara) & Sophie getting help from her Mommy (Rachel)
Kayla watching Boaz get help from Dawn
Jessica helping Lorelei
Nonnie helping Lillie Kate & Jamie
Anna Claire & Sophie decided to go play, so Sara & Rachel were left to finish the necklaces on their own.
Boaz says: Who keeps taking the Fruit Loops I'm trying to eat?
Sweet Sisters with their Fruit Loop Necklaces
Our little Party People
Our friends watching
And the adults watching too:
Checking out what she got....yes, she's barefoot, but that's how she rolls
Our friends were very helpful when they felt the need
Sophie was enjoying her Fruit Loop Necklace
It didn't take her long to dig in.
Anna Claire had a big day!
All that crafting, playing, & present opening made us work up an appetite:
Boaz wanted to be a big kid like Jamie & use a folk.
"Happy Birthday to you...." Cake Time:
Nonnie & Jamie
This lil man makes my heart smile!
Check out all her loot!
Playing till the end:
Kayla dancing with Boaz
Rock Stars Rockin'
Best Buddies!
I'm takin a snack to go, Tash!
Jessica & Jamie
Kayla kissin Kolby
I think he liked that kiss!
Can I get a little help please?
Love my Jess
Since she was such a good big sis.....she got a couple of presents after our friends left:
This expression cracked me up!
Enjoying our new toys:
------------------------------
Have a Sunshiny Day,
~Tasha Sunshine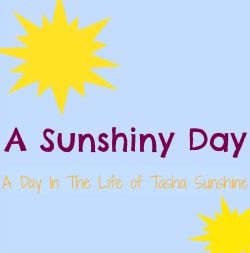 >