Well Happy Tuesday!
Okay, so it wasn't horribly crazy or anything, just BUSY.
And Monday that we work when most everyone else is off (government/federal holidays) are busy for us. But we like it!!!! And our patients like it cause they don't have to take the day off.
There's no Good Morning picture from Monday cause the girls were out of school, still at Sardis, & probably still asleep.

But I started my day at the gym......
.....& did this:
Which means I ran 4.67 miles in that time.
I also did 75 sit-ups with a 10 lb. plate:
At lunch during this Manic Monday, Cathy & I hit the gym.....
....I rode 8.3 miles in 42 minutes.
After our full day at work, I finally got to see my little cuties again!!!! We rushed from the office to the house cause all the dance shoes got left; & then took Jamie to dance. Kayla & I went & gassed up my SUV cause she said she didn't want to just sit there. After Jamie's dance class, we rushed to McDonald's to quickly eat dinner:
While we were there, each of the girls saw one of the boys from their school & everyone was excited to see each other!!!! Then Jamie & I took Kayla to dance & headed to Kroger for our weekly shopping. She loves driving the car cart:
On our way home from dance classes, Kayla started complaining of a bad headache. Usually when she says that, you've got to get her to the trash can fast as her tummy is going to be upset....this time was no different. I am very thankful we made it to the house before she actually got sick!!!! It made me so sad:
She had absolutely no fever & only got sick the one time.....so we are chalking it up to eating too quickly, food not settling, dancing around, & getting too warm.
Was your Monday manic, or relaxing with the day off????
------------------------------
Have a Sunshiny Day,
~Tasha Sunshine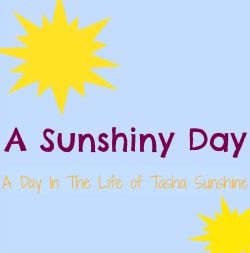 >