Well Good Monday Morning Afternoon to YOU!
Here's how our weekend went down (with the exception of the details of my workouts cause you get that recap on the WIN & WOW Updates)....
Good Morning World Picture:
It was Library Day & Show & Tell Day. Kayla was
excited
to be going to Library cause she hasn't had a new book since the end of November or beginning of December. She decided to take one of her kitties for Show & Tell.
One of my childhood friends does something with her daughter that I decided I should do with the girls (well, just Kayla until Jamie starts going to school on Fridays). Most every Friday school morning, my friend & her daughter go somewhere for breakfast & have a devotional. I've been watching them do this via Facebook for a while now & the Friday before Christmas break, God laid it on my heart that Kayla & I needed this special time. See, when I was pregnant with Jamie I went on bed rest for 7 SOLID weeks. Then Jamie was a little more demanding than Kayla as baby & is still clingy to me. This Friday morning time helps me to sit down & just focus on Kayla.

This past Friday, we went to Teague Store (also known as The Right Place when the girls are wanting ice cream). Kayla is allowed to pick anything she wants to eat & drink for breakfast & this week was a HUGE honey bun with icing & a Dr. Pepper. We read the story of Samuel anointing Daniel & learned that it doesn't matter what we look like on the outside; it only matters what we have inside our hearts.
I got to get my hair done finally & other than that it was your run-of-the-mill day for me (workout at least twice & get my job done as an optician).
Hubs killed a few deer the other weekend so we were able to have some yummy deer steak....I can't remember the last time we had deer steak.
I got up a little later than I wanted to, but still got a little workout in. I had a hard time pushing through it, but did it anyway. When the girls got up, we headed to The Hut for breakfast.
Kayla LOVES her some eggs!!!!
And Jamie is a HUGE fan of pancakes!
The afternoon was just nice & relaxing so we could get ready for our evening.
The evening was DEFINITELY fun & exciting!!!!
From time-to-time, the Hubs takes the girls out on a date. Sometimes it's just one of them with him; & sometimes it's a Daddy Double Daughter Date when they BOTH get to go. They absolutely LOVE this special time with him! And sometimes I get to chauffeur!
This was one of the Daddy Double Daughter Dates that I got to chauffer.
They were ALL excited!!!! 1st up was Chuck E. Cheese. I ran to get donuts & check out Aldi's (since I've never been in one & it's in the parking lot next door to where they were).
Next stop was dinner at Red Robin.....
....& I got to join in the fun! Of course it was YUMMY!!!!!
The last stop was for dessert at Menchie's....& I got to tag along for that too!!!!! We were going to go see Frozen; but our wait at dinner ran us too late for that.
Good Morning World Picture:
Oh how blessed I feel to get to take the girls to worship with our church family!
It was a nice & relaxing....well, we got laundry & some housework done during the afternoon/evening.
I felt SOOOO accomplished!!!!! I g
ot my lunches & afternoon snacks prepped for the week. My morning snack is usually a smoothie I make that morning. I ALSO just got the girls lunches figured out for the week AND dinner menu ALONG with shopping list to make my shopping trip during Kayla's dance Monday night go more smoothly. It may not seem like much, but it will save me time in the mornings so I don't turn into that head-spinning Momma I tend to turn into when I feel pressed for time in the mornings.
FYI: I have fallen in LOVE with Spaghetti Squash!!!! I have roasted it up & treat it just like spaghetti noodles, putting anything on it I would on pasta..... BUT 1 cup (without anything on it) is only 30 calories.
Hubs was excited to get to go duck hunting with his Dad & some buddies this weekend too....I would say they were pretty successful:
**********************************************************************************
So what did you do this weekend????
------------------------------
Have a Sunshiny Day,
~Tasha Sunshine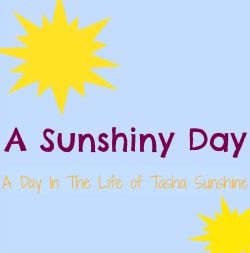 >