Good Wednesday Morning Afternoon....errrr Happy Thursday! We were SLAMMED yesterday & have been SLAMMED today so I haven't gotten to work on this when I wanted to....imagine that, having to work while at work; LOL!!!!
Here's your Good Morning picture from Tuesday:
I started my Tuesday morning by doing this:
which was 4.35 miles in 50 minutes on this:
At lunch, Cathy & I were able to hit the treadmill.....
I got in 7.9 miles in 40 minutes.
Work was CRAZY BUSY & I was thankful for that time on the treadmill!!!!
For dinner I made Savory Cajun Chicken & Sausage over rice with green beans.
It was yummy & I think it would also be good in a tortilla shell as a chicken taco.
The girls & I got some chores done: dusting & vacuuming. They got their rooms & helped with the kitchen & living room. Kayla earned another app for her Kindle Tablet & Jamie earned dessert (which she didn't get after dinner cause she didn't finish the little amount I told her to).
After the girls got in bed, I decided to do some Kettlebell work cause I hadn't in a few days.
And since it's now Thursday, here is your Good Morning picture from Wednesday:
Jamie was just excited to be going back to school cause it seemed like she had been out a while with having off on Monday. Kayla's school is doing a Spirit Week for the Basketball Homecoming this week. Tuesday was Toon Day (we didn't participate cause I just couldn't get it together). Wednesday was Duck Dynasty Day. She's decked out in her Hunt Like a Girl shirt, hunting face paint, & a pink & camo beanie hat I got from a friend. In the picture she is pretending to hold up her gun.
Before those cuties got up, my Wednesday started with this:
4.75 miles in 50 minutes.
I also did 85 sit-ups with a 10 lb. plate:
Work was crazy busy again! It is GREAT for business & I am BEYOND thankful!!!! But we're either going to have to hire a 3rd person soon or I will not be able to function at night. We had a couple of patients that were there into our lunch time, so Cathy & I were unable to hit the gym (it made me kind of sad cause I'm so addicted now).
Since it was Wednesday, we had our Church activities. With those patients having us working part of our lunch, we went & grabbed a quick bite to eat......aka: I ate way too much food cause I ate quickly & was unable to listen to my bodies cues that it was full. So I was not up to eating dinner (with a plan to eat a small snack when we got home from Church activities). I gave the girls a couple of options & they picked McDonald's:
After they ate, we went to Church. They enjoyed Mission Friends & Preschool Choir while I enjoyed attending The Daniel Plan Bible Study, Prayer Meeting, & historical Bible Study that our preacher does. Then, I got to do something I used to do & have been wanting to get back to for years: I joined the Church Choir! Now, I by no means think that I can sing that well or anything. But I do love to sing & ESPECIALLY love to sing with a group. I was made to feel very welcome!!!! It was so much fun!!!!!!! When I got home, it was late & time for bed.
Here's your WIN & WOW Update:
I've been logging into My Fitness Pal for the last 529 days in a row as of yesterday (Thursday, Jan. 23).
As you can see, I've lost a total of 37.8 lbs.
I'm now at the maintain the weight but shape up stage.
***Here is what the last week has looked like for me***
Wednesday Goal = Run/Walk
January 15
Stretching
64 sit-ups with 10 lb. plate
Weights
Cycling 7.5 miles in 40 minutes
Burned 679 calories
Thursday Goal = Rest from Run
January 16
Stretching
69 sit-ups with 10 lb. plate
Weights
Cycling 5.0 miles in 25 minutes
Burned 515 calories
Friday Goal = Run/Walk
January 17
Nothing.....I was exhausted from absolutely NO sleep Thursday night into Friday....I literally saw every hour on the clock.
Saturday Goal = Cross-Training (anything cardio other than run/walk)
January 18
Nothing.....still too exhausted
Sunday Goal = Run/walk
January 19
Again....nothing; but just about recuperated
Monday Goal = Run/walk OR Cross-Training (anything cardio other than run/walk)
January 20
Stretching
75 sit-ups with 10 lb. plate
Running 4.67 miles in 50 minutes
Cycling 8.3 miles in 42 minutes
Burned 834 calories
Tuesday Goal = Cross-Training (anything cardio other than run/walk) OR Run/walk
January 21
Stretching
Running 4.35 miles in 50 minutes
Cycling 7.9 miles in 40 minutes
Burned 744 calories
I said it before & I'll say it again (& you'll keep seeing it): Someone once told me to keep my goals in front of me. And as bad as my memory is, it's REALLY hard for me to remember my goals if they're not in front of me.
Personal Goals:
1) Make healthier meal choices when eating out.
2) When indulging in something that's not a healthier choice, practice strict portion control!
3) Eat at least 2 fruits & 2 veggies daily.
4) Drink 72-96 oz of water daily.
5) Workout 5 days a week.
6) Log EVERYTHING into My Fitness Pal every day.
7) Be comfortable enough with my body to wear a 2-piece for Summer 2014, even if I don't actually buy one.
8) Walk different 5Ks throughout the year.
Wish List.....so far:
March 15 Run or Dye (registered)
March 29 The Glo Run (registered)
April 5 80's Retro Run (registered)
May 10 Foam Fest (registered)
May 23 Zoom thru the Zoo
June 13 Glow in the Park
June 15 Gibson Guitar 5K
September 14 I Do It For ______ Foundation Run
September 9 Teal for a Cure Walk Run 5K
October Breast Cancer Walks
I'm sure this list will grow!
9) Walk/Jog Half Marathons.
Planned:
April 26 St. Jude Country Music Half Marathon in Nashville (registration transferred from Memphis Half Marathon cancelled Dec 2013)
December 6 St. Jude Half Marathon in Memphis
10) Stop weighing/measuring everyday....don't be number-driven.
11) Be less self-conscious & more confident with myself. [I think I will always be working on this]
**************************************************************************************************************
This post was a link up with
------------------------------
Have a Sunshiny Day,
~Tasha Sunshine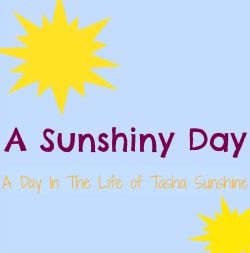 >