Happy New Year!!!
I am going to try to get more regular with my blogging.....sorry to all my regular followers! On days when I don't have anything I specifically blog about, I'll try to do posts to catch you up (like Christmas pics).
But yesterday was Wednesday so here is my Weigh-In (WIN) & Workout Wednesday (WOW) Post.
I've been logging into My Fitness Pal for the last 505 days in a row as of Monday, December 30.

I hit day 500 on Christmas day & I was REALLY pumped & excited about it!!!! Oh how my body has changed in 505 days....I'm SOOOOO glad I started when I did!

As you can see, I've lost a total of 37.8 lbs.
I'm now at the maintain the weight but shape up stage.
I was doing SOOOOO VERY good, & then in October, I had to have a toenail removed & it threw me way off. Once I was full recovered (which took a lot longer than I had anticipated), I started getting back on track. I was just walking my hard-core pace or doing sit-ups & kettlebell work here or there. I was getting back on track to at least cross the finish line walking the St. Jude Half Marathon.
But then, we got some icky/icy/snowy weather & for the 1st time, St. Jude had to cancel the race. The finish line was a solid sheet of ice.
That kind of depressed me cause I was SOOOO very pumped for it! I had a few more lazy days; & then I kicked it into high gear!
We joined the gym that's about 5 minutes from the house on December 11.
I completed this app on my phone:
It has me do a few more sit-ups each time I do it (designed to be done 3 days a week) in order to work myself up to doing 200 in one workout session. I also like it cause it praises me when I'm finished & allows me to post for my accountability people (you know, those peeps who check on me with my workouts & such):
I have re-started the 200 sit-up challenge, but I've added a 10 lb. plate.
If you follow me on any other social media (Facebook or Instagram & if you don't follow me, you should), you will see any combination of these pictures posted for a daily workout:
When I hit the treadmill at home (late night or early morning when I can't get to the gym)
When I hit the treadmill at the gym (cause sometimes I have extra time while I'm there & sometimes my co-worker & I hit this during our lunch time)
When I hit the weights at the gym
When I cycle at the gym
When I do sit-ups with 10 lb. plate
When I do 10 lb kettlebell work
And for the month of January, I am doing this challenge
***Here is what the last week has looked like for me***
Wednesday
December 25: Stretching, 25 sit-ups with 10 lb. plate, & working with the weights
Burned 431 calories
Thursday
December 26: Stretching, 33 sit-ups with 10 lb. plate, weights, cycling 7.20 miles in 35 minutes, & walking 2.09 miles in 30 minutes
Burned 810 calories
Friday
December 27: Stretching, 35 sit-ups with 10 lb. plate, weights, & cycling 9.30 miles in 45 minutes
Burned 713 calories
Saturday
December 28: Walking 2.25 miles in 32:02 minutes & 10 lb. kettlebell work
Burned 548 calories
Sunday
December 29: Walking 3.12 miles in 45 minutes
Burned 276 calories
Monday
December 30: Walking 3.32 miles in 47 minutes & 10 lb. kettlebell work
Burned 644 calories
Tuesday
December 31: Walking 3.07 miles in 46 minutes & 10 lb. kettlebell work
Burned 614 calories
***Starting next Wednesday (January 8), this is what my workout goals will look like during the week***
Wednesday Goal = Run/Walk
Thursday Goal = Rest from Run
Friday Goal = Run/Walk
Saturday Goal = Cross-Training (anything cardio other than run/walk)
Sunday Goal = Run/walk
Monday Goal = Run/walk
Tuesday Goal = Cross-Training (anything cardio other than run/walk)
There will also be other workouts like weights, kettlebell, etc. on these days.
Technically, I'm starting my this run/walk schedule this Friday (January 3). But it won't be a full week of these goals when I post my WIN & WOW Update next week.
Goals
I said it before & I'll say it again (& you'll keep seeing it): Someone once told me to keep my goals in front of me. And as bad as my memory is, it's REALLY hard for me to remember my goals if they're not in front of me.
Personal Goals:
1) Make healthier meal choices when eating out.
2) When indulging in something that's not a healthier choice, practice strict portion control!
3) Eat at least 2 fruits & 2 veggies daily.
4) Drink 72-96 oz of water daily.
5) Workout 5 days a week.
6) Log EVERYTHING into My Fitness Pal every day.
7) Be comfortable enough with my body to wear a 2-piece for Summer 2014, even if I don't actually buy one.
8) Walk different 5Ks throughout the year.
9) Walk the St. Jude Half Marathon.
10) Stop weighing/measuring everyday....don't be number-driven.
11) Be less self-conscious & more confident with myself. [I think I will always be working on this]

I need to think about these goals again.
**************************************************************************************************************
This post was a link up with
------------------------------
Have a Sunshiny Day,
~Tasha Sunshine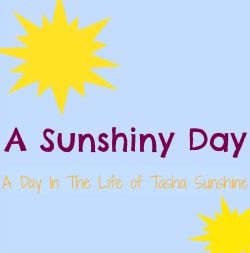 >